What is Uber SELECT?
Some refer to UberSELECT as "Uber BLACK but the cars don't have to be black". It's a luxurious step above UberX; but costs less than a black car. If you want to ride in style without completely burning a hole in your pocket - this car service is for you.
Vehicles that fall under this category must be newer and otherwise have higher requirements/standards than UberX.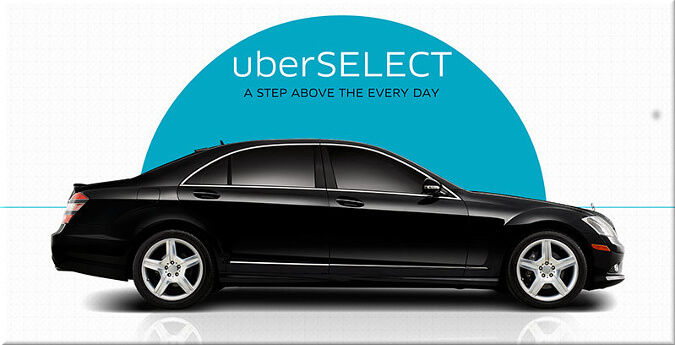 Vehicle Requirements
Passenger Limit: Must comfortably fit riders (or more)
Must be a 2007* model or newer
Higher end sedans or luxury SUV's only
Have leather (or vegan leather) seats/interior
Have at least 5 functional seatbelts
Drivers must be at least 21 years old
Uber SELECT Car List example
To give you an idea of what to expect, Here are some of the approved vehicles for UberSELECT:
Acura RDX/MDX/TLX+
Audi A3/Q3/S4/A6/Q7+
BMW X3 & X5
BMW 5 Series & 7 Series
Cadillac CTS, Escalade, SRX+
Hyundai Genesis Sedan
Infiniti EX/FX/QX/Q50+
Lincoln Navigator
Porsche Macan/Cayenne
Mercedes-Benz C/G/CLS/GL+ Class
Tesla Model S
Buick Enclave/Regal/LaCrosse
Land Rover Discovery
Lexus GS/LX/GX/RX+
Land Rover Evoque
Kia K900
---
Uber is a Transportation Network Company that was started in 2009 by Garrett Camp & co-founder Ryan Graves.
It allows riders and drivers from all over the world to easily collaborate and offer on-demand rideshare services, solely controlled by their smartphones, for a competetive fee. Learn more about Uber
© 2016 UberEstimate.com -
privacy
We are not affiliated with Uber® in any way.