What is Uber SUV?
After Uber launched UberXL (an inexpensive SUV car service) in May of 2014, It didn't take long for them to realize that many riders also desired a similar yet more luxurious option to choose from for special events and business travel.
Thus, UberSUV was born. Basically it goes like this: UberBLACK is to UberSUV, as UberX is to UberXL. In other words if you are with a bunch of friends or just want the extra room to yourself, while riding in style, this is the car service for you.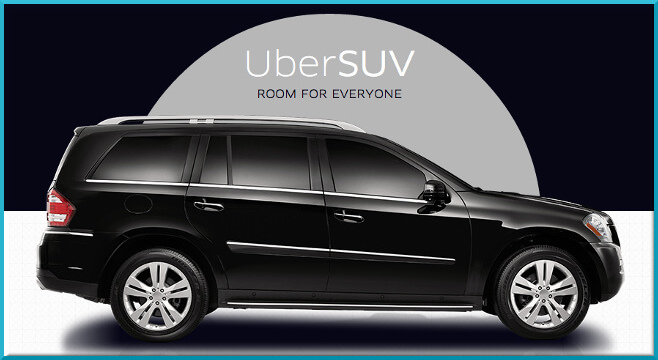 Vehicle Requirements
Comfortably seats at least 6 passengers
2010* or newer luxury SUV (clean & otherwise in immaculate condition)
Must be black in color and have leather or vegan leather interior
All drivers must be at least 21 years old
Drivers tend to be well-mannered, professional and dress accordingly
Uber SUV Car List example
You can expect to be picked up in a vehicle similar to the ones listed below:
Cadillac Escalade ESV
Ford Expedition Limited/Platinum
Audi Q7
GMC Yukon XL
Infiniti QX/56/60/80
Lincoln Navigator
Nissan Armada
Mercedes-Benz GL-Class
Chevrolet Tahoe/Hybrid
Toyota Sequoia
Lexus LX/GX
Lincoln MKT
GMC Denali/Hybrid
Porsche Cayenne
Chevrolet Suburban
Note: Many makes & models aren't listed above; this is just to give a rough idea.
---
After launching in 2010, Uber quickly became the worlds leading rideshare service. The company revolves around their smartphone app - which allows riders to request an on-demand car service to take them where they need to be.
Upon requesting a ride, you can see where the pickup car currently is - and how long it will take for them to arrive at your current location. Uber is currently operating in more than 551 metropolitan areas spread across 68 countries & growing.