What is UberX?
UberX is one of the most popular private car services that Uber has to offer. Commonly referred to as the "low-cost option" for rides, it allows you to quickly arrive at your destination without breaking the bank.
Despite being the "budget option", your experience will be worth a million bucks. There are strict model and year requirements in place for each vehicle - so don't worry about being picked up in a beater. UberX is the most inexpensive on-demand private car service available; Hail one to get picked up in "your every day car with your every day driver".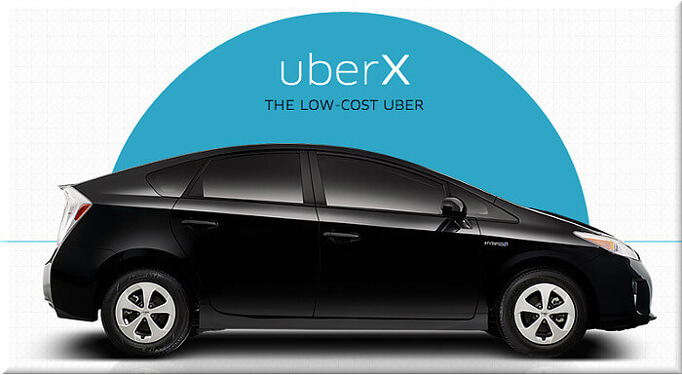 Vehicle Requirements
Passenger Limit: Must carry at least 4 riders
Must be 2006* or newer (minimum year requirements vary by city) with 4 doors
Driver must be at least 21 years old and pass a background check
Car must be in good condition with 5 working seatbelts
UberX Car List example
When requesting an UberX, you can expect to be picked up in a car similar to the ones listed below.
Dodge Charger
Toyota Prius
BMW 3 Series
Kia Sorento & Optima
Ford Escape
Nissan Maxima
Toyota Camry
Honda Accord
Ford Escort
Hummer H3
Ford Fusion
Ford Crown Victoria
Nissan Altima
Chevrolet Equinox
Chrysler 200 & 300
Note: Not all cars are listed - This list is just to give you a general idea.
---
Uber is a Transportation Network Company that was founded in 2009 - Here's how it works.
It is a smartphone app which allows riders & drivers alike, in 68 countries and 527+ metropolitan areas around the world, to easily request their own private car service with the tap of a button; or make money and set their own hours as a driver.
© 2016 UberEstimate.com -
privacy
We are not affiliated with Uber® in any way.