What is UberXL?
Uber XL is an inexpensive car service that allows you to hail an SUV; It's UberX's big brother. So whether you're with a bunch of friends, or simply desire a more spacious ride without burning a hole in your pocket, UberXL is the car service for you.
When requesting an XL, you'll be picked up in a car that fits at least 6 people including yourself (an SUV or Minivan). Launching in May 2014, this was the 1st SUV option. It's nearly half the price of UberSUV (which is the luxury black car version).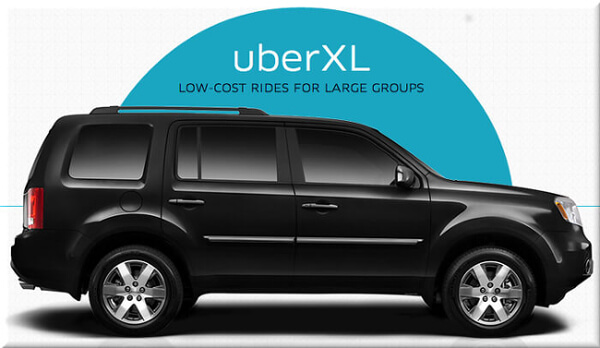 Vehicle Requirements
Passenger Limit: Must fit at least 6 riders (including yourself)
Drivers must be at least 21 years old
Luxurious UberSUV's technically qualify as UberXL as well
Fully functional seatbelts for both the driver and all passengers
Must be 2006* or newer (year requirements can vary by city) and in good condition
Uber XL Car List example
Here's what kind of cars you may be picked up in when getting an UberXL:
Please note: There are many more available cars, this is just to give you a rough idea.
Kia Sorrento
Toyota Highlander
Dodge Grand Caravan
Chevrolet Traverse
Dodge Durango
Ford Explorer
Hyundai Santa Fe
Dodge Journey
Chrysler Town and Country
Ford Flex
GMC Acadia
Toyota Sienna
Subaru Tribecca
Volkswagen Tiguan
Honda Odyssey & Pilot
---
Uber is a Transportation Network Company that began in 2009 & has since grown into a global company worth over $60 Billion.
It revolves around their smartphone app which allows riders and drivers, in 68 countries and over 526 cities, to easily request their own on-demand private car service to their current location - with the tap of a button.